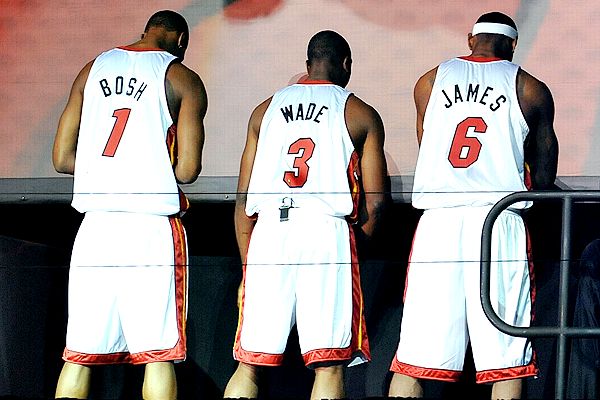 That is my million dollar question. LeBron is a young, fun, loving, 'kid at heart" kind of guy who if people really knew the real him and not the him the media has built…it would be hard to hate such a person. He's even humble..yes I said humble! I can say that because I had the luxury of hanging out with LeBron at one of his birthday parties and he was everything I stated above and more. One thing is for sure tho ..before LeBron James even steps on the floor to play Game 7 tonight it's clear that he has already lost. More specifically, he has lost the right to lose.
James has been an NBA CHAMPION, an NBA Finals MVP, a four-time NBA MVP (only a few have won the award four times, Kareem Abdul-Jabbar, Jordan, Wilt Chamberlain, and Bill Russell), an NBA scoring champion, the NBA Rookie of the Year, and an Olympic gold medalist. Selected to nine NBA All-Star teams, nine All-NBA teams, and five All-Defensive teams, the Cavaliers' all-time leading scorer and will go down as the best player to ever wear a Miami Heat uniform. On top of all that, last year James joined Michael Jordan as the only players to win an NBA MVP award, NBA championship, and Olympic gold medal in the same year. Think about the short list of players who have ever, in basketball history, been both an NBA champion and inarguably the best player in the world, all before the age of 30. (Only two names come to mind). LeBron is on that list.
With all that I just named, for most that would place them at the top of the accomplished, respected, liked, athletes of our time. But it doesn't. Instead it puts him on the "most polarizing athlete" list. Crazy!
Everything in his repertoire includes the words that greats like Charles Barkley, Patrick Ewing, John Stockton, Reggie Miller, and Elgin Baylor wpuld love to have associated with their names but none of them got a ring/ Elgin Baylor played in EIGHT, yes EIGHT, NBA Finals and never won it. Yet nothing LeBron does is ever good enough. Will it ever be?!
ames has been under more severe public pressure than any player in the game since he made his life more difficult by turning

the 2010 free agency into reality television with "The Decision"

and then simply stating his desire to win not 1, not 2, not 3 etc. The public (the media) took that statement as being bragalicious and arrogant but what player doesn't go to a team wanting to win multiple championships? He wasn't guaranteeing them, just simply saying that's what he hopes happens. BUT again....they hate.
After "The Decision" all his haters kept saying that they were hard on him because he didn't have a ring. Yet, nothing has changed since he won a ring LOL! He has done that and they still won't let up.

Winning the NBA Finals last year didn't liberate James in the way that a championship relieved the burden on Dirk Nowitzk. Why not?! All the championship last year did for James was to trend him in the right direction. If he were to finish his career with a single NBA title, then he would be one of the most disappointing stars in league history.
No one ever sides with LeBron, even when he plays well if they lose. It's his fault regardless. Neither Dwyane Wade (14.2 points in the Finals) or Chris Bosh (12.3) has provided the kind of A-list support that James is accustomed to receiving from them. Now he needs to win this game without certainty that his teammates will come up big for him. When Duncan was at his peak, the Spurs were never able to reach the NBA Finals in back-to-back years. They won in 1999, and then in 2003, '05 and '07. It was as if they inhaled one year to win, exhaled the next year to recover, which in turn allowed them to climb back on top. And in all that time they never faced the endless controversies that have defined James over the last three years.
LeBron has taken his team to three consecutive NBA Finals, and somehow people tend to forget that.
But if the Heat lose this will go down as a loss for LeBron, not the Heat. Because when you're LeBron James, every loss is on you in some way. If the Heat lose these Finals, no matter how James plays, the media will not treat him kindly. He'll be 1-3 overall in his NBA Finals apperances.
I don't

think LeBron can ever win enough to satisfy his haters. That's reality. When James uttered the phrase "taking my talents to South Beach," it changed everything and sealed his fate as one of, if not the most, hated athletes in the world. I think it's undeserving…because he didn't ask to be this good…he just is and some people hate that!