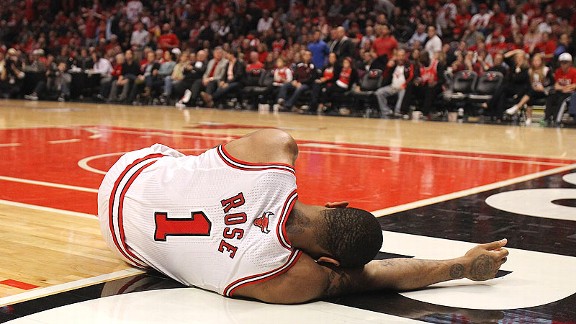 Call him Derrick "The Glass" Rose!
If I turn on my TV and here that Derrick Rose has another injury...I'm going to...well I don't know what I'm going to do but I'm not even a Bulls fan and I'm frustrated! So I can only imagine how Bulls fans are feeling today. Ugh!
Rose, who has not started and finished two consecutive games this season, left the game Tuesday night versus the Denver Nuggets with an injury after playing a full 10 minutes. Rose was 1-for-4 from the field for two points in 10 minutes, but was not aggressive when he was on the floor.
The Bulls listed the injury as left hamstring tightness, but Rose said after the game his hamstring was fine and he did not have a setback. He was "just trying to be smart" given his recent injury history.
Rose just returned to the floor this Monday night versus the Utah Jazz after missing the previous four games due to the same injury. He scored 18 points in 25 minutes.
Rose has missed eight games already this season, four others because of sprained ankles.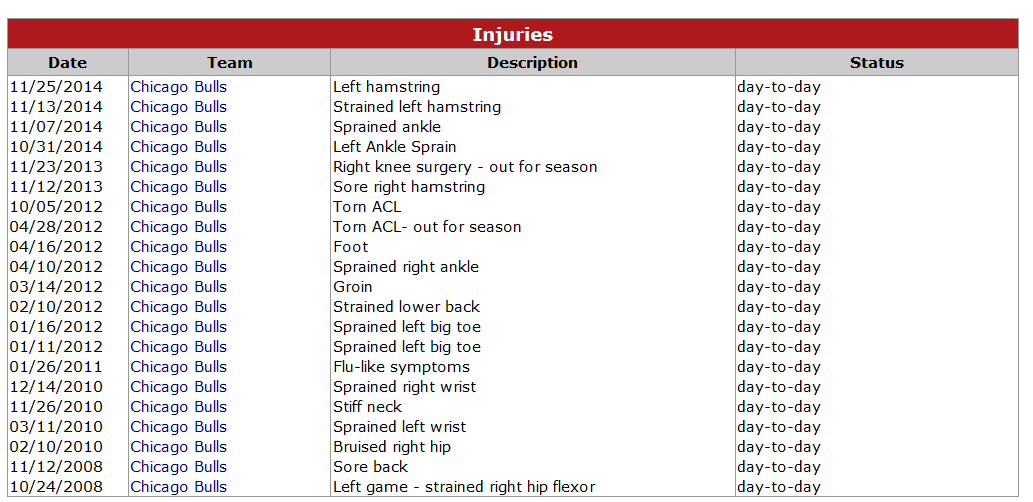 Sportsgrid.com writer Tim Reynolds posted this pic on twitter delineating every bump, bruise and tear Rose has had as a pro.
At this rate you can expect me to write more of the same post several times this year.
Good day.