No. 1 Baylor (39-0) versus No. 1 Notre Dame(35-3)
Let me start by giving Baylor head coach and AP Coach of the Year, Kim Mulkey a shout out. . I loved her outfit on the sidelines on Sunday night! You go beauty!
Now that the important things are out of the way, let's talk women's bball …..
Even though the women's college basketball tournament doesn't create all the buzz and hype that the men's tournament does… (for some) it's still just as exciting! The thing about women's basketball is…a #1 is a #1 and

a #16 is a #16. Upsets are few and far between and frankly….the games are slow. However, once it reaches the final four…I'm all in! So tonight we will crown the NCAA women's basketball champion in Denver and determine who's really number one.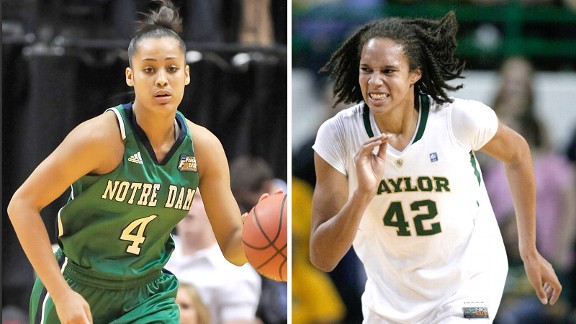 Brittney Griner, AP women's college basketball Player of the Year, and Notre Dame point guard Skylar Diggins might be the two most recognizable names in women's college basketball at the moment. The Lady Bears take on Notre Dame tonight for the title as they are one victory away from becoming the 7th team to finish undefeated and the first team in NCAA history to win 40 games in a season. But not if Skylar Diggins and Company have anything to say about it. Notre Dame, who lost in the title game last year to Texas A&M, is back in the national championship game after beating UCONN Sunday night in overtime. "Unfinished business" has been their motto this season, and they get a shot to take care of business tonight against the unbeaten Lady Bears. There's only one thing……Brittney Griner stands in their way. Griner has been consistent throughout the season and the tournament and her teammates have been more than a supporting cast. In their game versus Stanford Sunday night, Griner was double-teamed and held to one basket in the second half .Her teammates jumped in and carried the unbeaten Bears into the women's national championship game. Griner finished with 13 points and 9 rebounds.

The game will be entertaining so if I were you I'd tune in. The Bears seem immortal at this point and I don't think they can be beat (the 39-0 record was my hint). However, the Irish should not be taken lightly and they will fight it out til the end. Unfortunately, that end will be what it has been 39 other times this year…a Lady Bears victory.