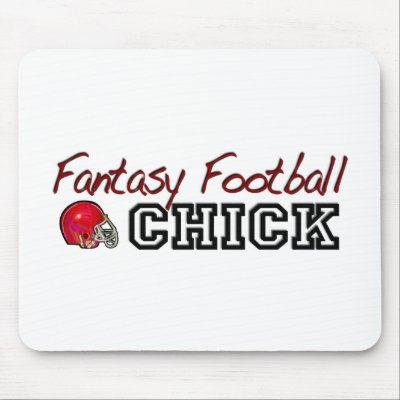 There has been a recent boom in the number of woman participating in fantasy football. Some who

actually know what they are doing (like me
J
) and others who

do it just because they have friends that play and said it would be fun to create a league. If you are reading this page, then you are at least thinking about joining the wonderful, addictive world of fantasy football. Brace yourself - you will never watch football the same way again!
So what's it all about? Here is fantasy football in a nutshell: You join a league made up of family, friends, co-workers or just about anybody (you can join a public league on NFL.com in which you are competing against people from around the world who happen to have a computer) Then you draft a team of actual NFL players a
long with a team defense. Each week during the regular season, you set a starting lineup. You'll go up against someone else in your league, accumulating points based on how your players perform in their real-life NFL games.
Just like a real NFL team, your goal is to win each week in an attempt to reach the fantasy playoffs. And just like an actual NFL general manager, you can make trades with other teams and work free agency in order to make moves to improve your roster.
You are the head coach and general manager, and owner rolled into one (kinda Jerry Jonesish).
Fantasy football is a great way to follow NFL action while also competing for bragging rights. The ultimate goal is to field the best team based on players stats and make it to the end to become Fantasy football legend…like the Beauty of Sports!
Fantasy Football Glossary
It's not as if you need to learn a new language to play fantasy football, but there are some key words and phrases you need to familiarize yourself with it before you take a seat at your computer and enter this world. Put it this way: If you hear your boyfriend on the phone talking about handcuffs, he's not being kinky.
You'll learn the language as you play, but here is a handy fantasy glossary to get you going.
ADD: Adding a free-agent player off the waiver wire.
AUCTION DRAFT
:Owners take turns nominating players, who are then bid on by all owners. Each owner is given a spending limit (or salary cap) to complete their roster.
ADP (Average draft position):
This report lists the average round in which a player is chosen during a fantasy football draft. The list comes from results of several real-life drafts.
BASIC SCORING SYSTEM
: The most basic scoring systems award points only for touchdowns, field goals and extra points. That could be six points for all touchdowns, three points for field goals and one point for extra points. Other basic scoring leagues will offer four points for touchdown passes. More advanced leagues will offer scoring bonuses for players hitting yardage markers, such as 250 passing yards or 100 rushing yards. Some custom-scoring leagues (like mine) will base points on length of touchdown scores, field goals, etc.
BUST:
A player who enters the season with high expectations but finishes with disappointing statistical results.
BYE WEEK
: NFL teams play 16 games in 17 weeks, with an off week

somewhere in between those games. Being aware of bye weeks is very important when constructing a fantasy football team. As a result, you don't want to draft two quarterbacks with the same bye week because this will force you to go deep into the waiver wire for an emergency starter.
CHEAT SHEET
: A prepared list of players ranked in order of fantasy value. When putting together a cheat sheet, be aware of your league's scoring system and rank your players accordingly.
CUSTOM-SCORING LEAGUE
: A league that decides to assign its own value to touchdowns, field goals, extra points, etc. For instance, some leagues will give bonus point values for rushing or receiving game milestones. This is why it's important to know what type of scoring your league uses when you draft your team.
DEPTH CHART
: An NFL roster split that shows first-, second- and third-string players. For instance, Arian Foster is first string at running back on the Texans' depth chart, and Ben Tate is second. That is something important to keep in mind when you look at "handcuffs" (explanation of that term coming soon).
DRAFT
: Most fantasy football teams are constructed via a draft, where owners take turns picking players for the season. Most drafts orders are chosen through a random drawing or are based on the previous year's results, with the last place teams drafting first.
DROP
: Releasing a player back into the free-agency.
DYNASTY LEAGUE
: This is similar to a "keeper league" (see below), but instead of a few players being held over, an entire roster is retained..
FREE AGENT:
A player who isn't on a team's roster and is available on the waiver wire.
HANDCUFF
: Taking the immediate backup for one of your star players. For instance, if you have RB Adrain Peterson,

you would be wise to handcuff him by drafting Toby Gerhart as well.
IDP (Indiviual Defensive Players):
Some leagues will use the stats of individual defensive players, instead of using team defenses. Scoring can vary but typically includes points for sacks, safeties and interceptions. If your league uses IDPs, be sure to add them to your cheat sheet. IDP's are usually only available in custom leagues..
MOCK DRAFT
: A "fake" fantasy draft that isn't played out during the season but often is used by team owners to practice drafting and prepare in advance. NFL.com Fantasy Football offers mock drafts, Click Here.
PPR (Point Per Reception
):A league that awards a point per reception. Typically, running backs, wide receivers and tight ends receive points for catches. This does not include the points received for yardage.
PROJECTIONS:
A player's predicted stats, which are used to help determine that player's fantasy value.
RBBC (Running Back By Committee):
This a dirty four-letter word in the world of fantasy football. RBBC describes a situation in which an NFL team uses more than one running back during a game. A perfect example exists in Washington, where Tim Hightower and Roy Helu (amongst others) are rotated throughout the game. This scenario sometimes makes it difficult for owners to depend on a back for a consistent level of production.
RESERVE
: Backup or bench players.
SNAKE DRAFT:
Unlike the actual NFL draft, most fantasy drafts use the "snake" system in which the team with the first pick in Round 1 has the last pick in Round 2, followed by the first pick in Round 3. Likewise, the team with the last pick in the first round has the first pick in the second round. This system is used to help create a balance between all of the competing teams.
SLEEPER
: Typically, a late-round pick or waiver-wire selection who exceeds statistical expectations and becomes a prominent option in fantasy leagues. A sleeper can be a rookie, such as RB Trent Richardson, or a player who has yet to live up to his potential, like WR Dez Bryant..
STUD
: A true superstar at his position. Aaron Rodgers, Ray Rice and Calvin Johnson are bona fide studs. Steven Jackson? A good fantasy performer, but not a fantasy stud.
TRADE:
A transaction that involves the swapping of one or more players from one team to another. In some fantasy leagues, the commissioner has the power to approve or deny all trade requests. A voting process among owners is also used in leagues.
TRANSACTION
: Any roster change (waiver-wire add/drop, trade, etc.).
WAIVER WIRE
: Refers to the list of free-agent players within a fantasy league. Most free agents are subject to a waiver process, as a player is placed on waivers after the kickoff of the first game of the week or during a designated period (24 hours) after being released from a team. Waivers help to ensure that all teams have the opportunity to claim the best free agents, resulting in more balanced, competitive leagues.
Now print this off and carry it in your pocket book! It will impress the best of them
J
. If you have any other fantasy football questions, you can contact me!
Be sure to check back soon. I will post my fantasy draft results and strategy next week before the season starts.